A Study Into The Effects Of Pareidolia
2018
ISBN 978-0-9956421-0-2
£4 (email to order)
—
24 page A5 booklet
Laser copy with staple binding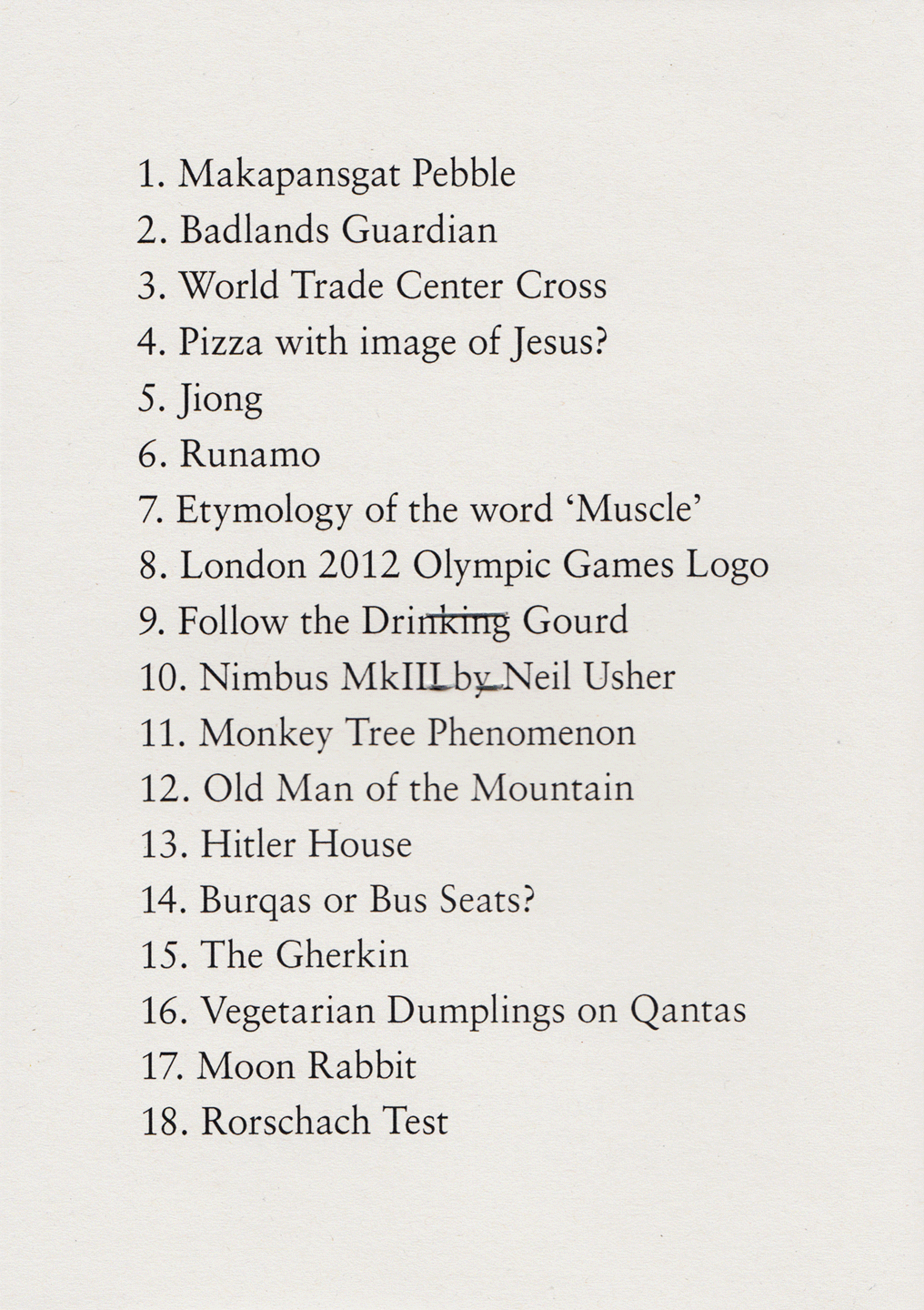 A three million year old pebble provokes social media discussion into the validity of found objects as art.
An oil well and the road that leads to it inadvertently create giant headphones.
Steel beams become a symbol of hope.
After 26 bids on eBay, a three cheese pizza sells for AU$153.00.
The meaning of a Chinese character is changed from 'patterned window' to embarrassed or sad.
Famous scholars spend hundreds of years trying to decipher natural cracks in a Swedish dolerite dike.
The word muscle.
A cartoon character 'giving head' is one piece of feedback on a £400,000 logo.
Schoolchildren across America sing about following a drinking gourd.
A popular pastime is automated with the invention of Nimbus MkIII.
A tree in Singapore is surrounded by a collection of fruits, packets of peanuts, flowers, joss sticks and red buckets.
New Hampshire loses its State emblem.
Clive Davies is interviewed about his end-of-terrace house in Swansea.
Members of the Norwegian far-right group Fedrelandet Viktigst claim to be scared by a photo of an empty bus.
Despite being a well-known landmark in the city, many Londoners have not heard of 30 St Mary Axe.
During her flight, a woman decides not to eat the steamed Japanese eggplant.
The self-sacrifice of a rabbit becomes folklore in multiple cultures.
Psychologists react angrily when James Heilman adds ten images to Wikipedia.